Active bond management seeks to provide increased income over cash alternatives, and potential for appreciation.
Using a value based total return approach, F/m Genoa Portfolios typically experience capital appreciation if rates trend
lower, and transition assets to seek to protect capital and increase yield if rates trend higher.
Short Interest Rates
Typically controlled by the Central Bank's view of the economy
Anticipated to stay near current levels
Influence bond maturities within 0-7 years
Long Interest Rates
Typically controlled by the Street's feeling towards the economy
Anticipated to stay near current levels
Rates effect bonds maturing 8-30 years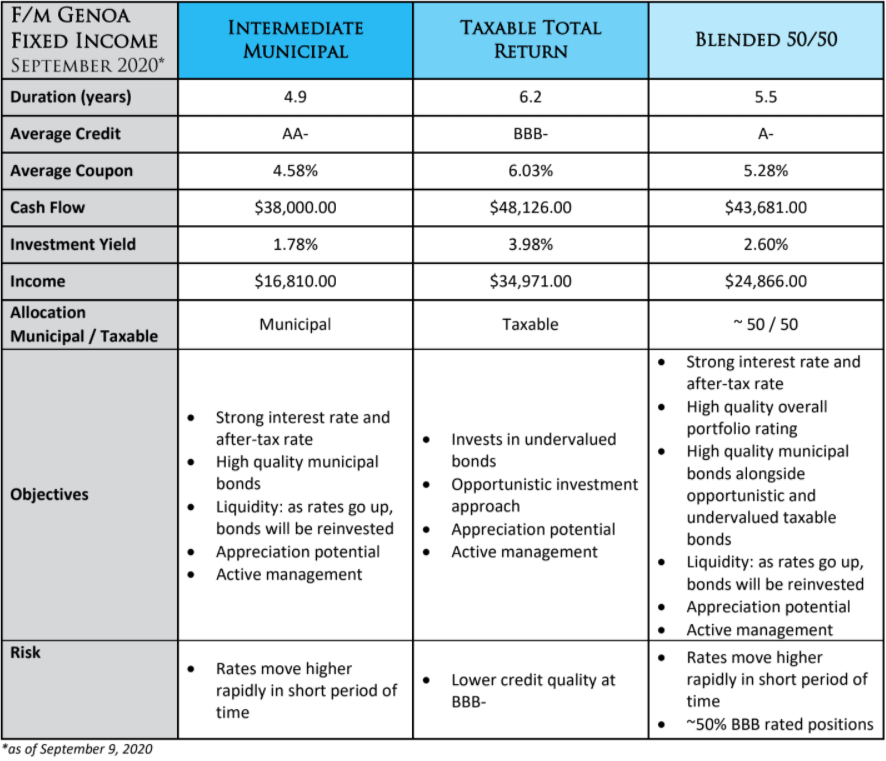 ---
Disclosures
F/m Investments, LLC, doing business as Genoa Asset Management, is an investment advisor registered under the Investment Advisers Act of 1940. Registration as an investment adviser does not imply any level of skill or training. The oral and written communications of an adviser provide you with information about which you determine to hire or retain an adviser. For more information please visit: adviserinfo.sec.gov, and search our firm name.

The information presented in the material is general in nature and is not designed to address your investment objectives, financial situation or particular needs. Prior to making any investment decision, you should assess, or seek advice from a professional regarding whether any particular transaction is relevant or appropriate to your individual circumstances. There is no guarantee that any of the objectives listed will be achieved. This material is not intended to replace the advice of a qualified tax advisor, attorney, or accountant. Consultation with the appropriate professional should be done before any financial commitments regarding the issues related to the situation are made.

The opinions expressed herein are those of Genoa and may not actually come to pass. This information is current as of the date of this material and is subject to change at any time, based on market and other conditions. Although taken from reliable sources, Genoa cannot guarantee the accuracy of the information received from third parties.

All investing involves risk including loss of principal. Past performance is no guarantee of future results. Bonds are subject to market and interest rate risk if sold prior to maturity. Municipal bonds are subject to availability, price, and to market and interest rate risk if sold prior to maturity. Bond values will decline as interest rate rise.

The mention of specific securities and sectors illustrates the application of our investment approach only and is not to be considered a recommendation by Genoa. The information reference is taken from a model account, and may not reflect your own account. The specific securities identified and described above do not represent all of the securities purchased and sold for the portfolio, and it should not be assumed that investment in these types of securities were or will be profitable. There is no assurance that securities discussed in this material have been purchased or remain in the portfolio or that securities sold have not been repurchased. It should not be assumed that any change in investments, discussed in this article have been applied to your account. Please contact your investment adviser to discuss your account in detail.