February 17, 2023
Markets rarely ever move in a straight line. Neither does inflation or the economy. And that is what we found in the last couple of weeks. After the strong employment report (that many discounted), we had more reports on Retail Sales, the Consumer Price Index and the Producer Price Index. All of these important reports showed: a strong consumer, a strong economy and diminishing disinflation.
This is what the Fed was telling the market: There is too much demand in the economy, not enough supply and this might cause inflation to be stronger for longer. Their answer: keep the Overnight Fed Fund Rate higher for longer. Reviewing the CME Fed Watch Tool, the futures now indicate 3 more 25 basis point (0.25%) increases in Fed Funds through June reaching a terminal top rate of 5.50%. Futures still see a potential the Fed will cut rates starting in December, the Fed Governors would beg to differ on that possibility.
The good news remains, short US Treasuries six months to a year are yielding around 5%. And while short municipal bonds have corrected somewhat, we still think it's better to buy short US Treasuries over short municipal bonds. In other good news, investors who missed the chance to lock in the ten year US Treasury yield at 3.83% are getting another chance to buy at those levels.
If a recession does happen, a nice portfolio of decently yielding US Treasuries could help weather a potentially turbulent market.
-Peter Baden, CFA
Chief Investment Officer
Click on the above links for more information on important investment and economic concepts.
---
Next FOMC Decision
March 22, 2023
---
The Week Ahead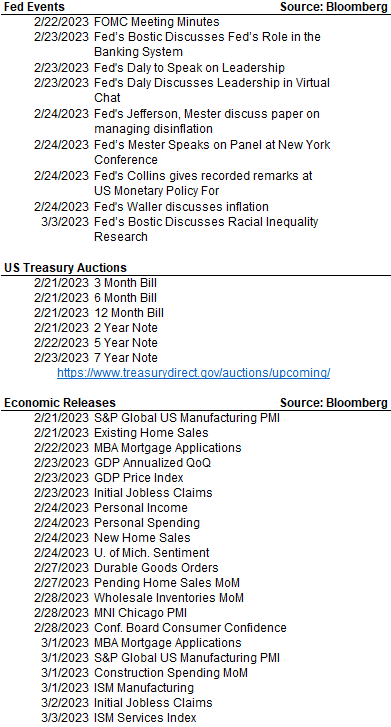 ---
CME Fed Watch Tool
---
Fixed Income Rates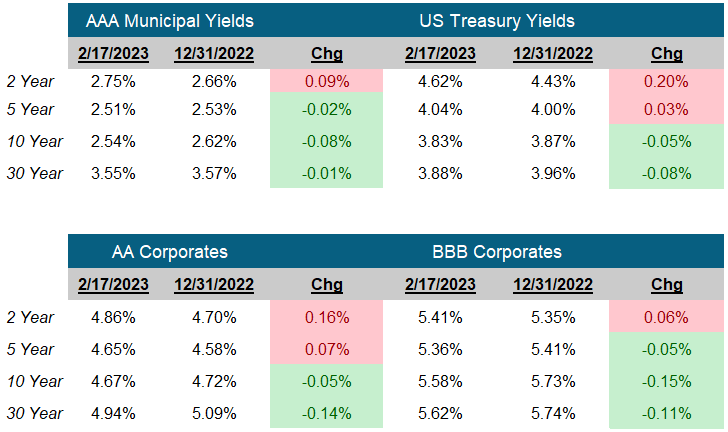 ---
Contact Genoa Asset Management
William (Kip) Weese
SVP, Intermediary Sales
Northeast & South West
(508) 423-2269
Email Kip
Rick Bell
VP, Intermediary Sales
North Central & North West
(513) 762-3694
Email Rick