June 30, 2023
Markets moved aggressively this week. Positive revisions to first quarter GDP cleared the deck for the additional FOMC overnight rate increases that Fed speakers were signaling in their speeches. But is the economy really growing that fast, today? Friday's release of the PCE report and earnings guidance from key industries paint a different, more up to date, picture of the economy.
GDP or Gross Domestic Product is released by the Bureau of Economic Analysis (BEA). It's measured every quarter and it gets three revisions before it's declared final. Thursday the third revision of first quarter GDP raised quarter over quarter growth from 1.3% to 2.0%. That was far ahead of market expectations, causing Treasuries to fall (In anticipation of higher interest rates) and corporate spreads to tighten (As a recession seamed less likely). 
Today, the BEA's May Personal Consumption Expenditures (PCE) indexes release showed Improvement in the Fed's favored inflation indicator: PCE Price index to 3.8% from 4.3% in April and the PCE Chained (2012) dollars index showed consumer spending slowed in May to 0.0% from 0.2% in April. 
While the market was watching the headline numbers Lanexx AG, a major German specialty chemical maker, warned recent declines in sales volumes were more severe that during the 2008/2009 recession. It seems after "Supply chain issues", companies now face "The Great Destocking". Whether it's the increase in interest rates or the slowdown in China, it's concerning.

We don't put too much weight on big revisions to data that is over three months old. We do put weight to data that is a few weeks old and companies saying sales volumes are at great recession levels. We continue to patiently hold our nice short yields and average into the higher yielding long tenors.
Happy Birthday to the United States of America, and have a Happy Independence Day!
-Peter Baden, CFA
Chief Investment Officer
Click on the above links for more information on important investment and economic concepts.
---
Next FOMC Decision
July 26, 2023
---
The Week Ahead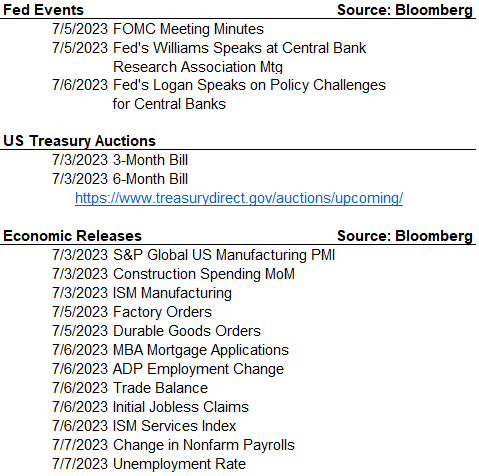 ---
CME Fed Watch Tool
---
Fixed Income Rates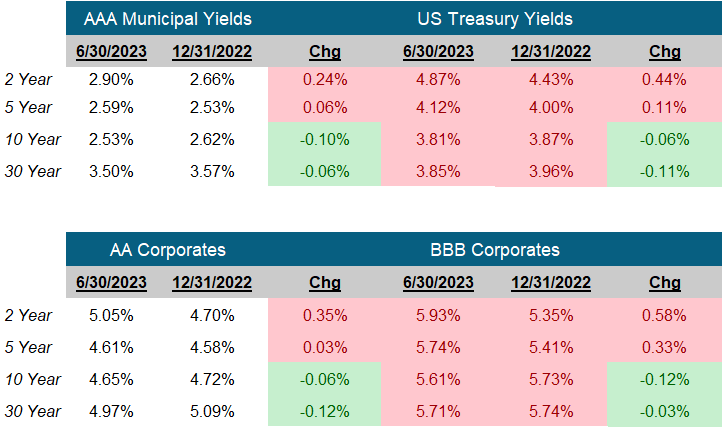 ---
Contact Genoa Asset Management
William (Kip) Weese
SVP, Intermediary Sales
Northeast & South West
(508) 423-2269
Email Kip
Rick Bell
VP, Intermediary Sales
North Central & North West
(513) 762-3694
Email Rick