June 10, 2022
Earnings season and investor days always make for great sound bites. No one is better at this than Jamie Dimon at JP Morgan. His wonderful headline:
"You know I said there's storm clouds, but I'm going to change it… it's a hurricane"
Jammie Dimon, JP Morgan Analyst Day
But does Jamie put his provision for loan losses where his sound bite is? Last quarter JP Morgan reserved $1,463mm against future loan losses. This is the first addition to provisions in 5 quarters and is very close to the $1,427mm loan loss provision from 4Q19. But it doesn't come close to pandemic provisions of 1Q20 $8,285mm and 2Q20 $10,473mm.
Dig a little deeper, beyond the headline, Mr. Dimon qualifies his sound bite saying that, while conditions seem "fine" at the moment, nobody knows if the hurricane is "a minor one or Superstorm Sandy,".
Combining the provisions and the qualification, he seems to be thinking along the lines of our scenarios: Rate hikes, inflation cools and no recession, or rate hikes, recession and inflation cools, or rate hikes, recession, and continued hot inflation (i.e., Stagflation). Like us, he might be leaning more toward the second scenario, with a recession happening. 
There is no precise way to gauge how bad a recession might get if we have one. But typically, the more debt on the consumer and corporations, the worse the recession. Two readings we follow are both produced by the Federal Reserve System, the Household Debt Service Payments as a percent of Disposable Personal Income and the Nonfinancial Corporate Business: Debt as a Percentage of the Market value of Corporate Equities (See graphs below). Both of these measures are at very low or historically low levels versus historical levels. This leads us to believe the potential recession may not be severe.
Given that our last two recessions were the Great Recession and the Pandemic, the markets (And our) fear is understandable when the "R" word gets mentioned. We're saying don't fear the recession, quantify it, and prepare your portfolios for the volatility.
-Peter Baden, CFA
Chief Investment Officer
---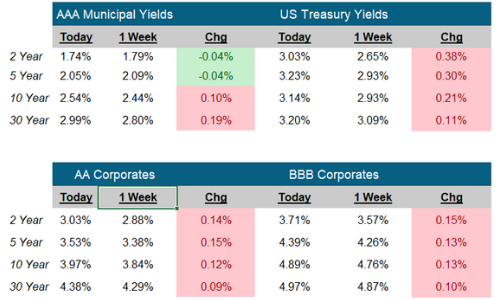 Federal Reserve Debt Readings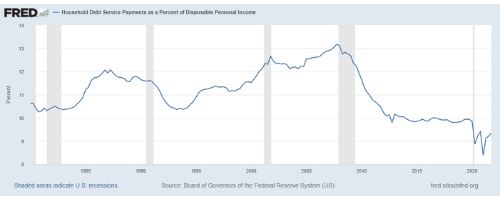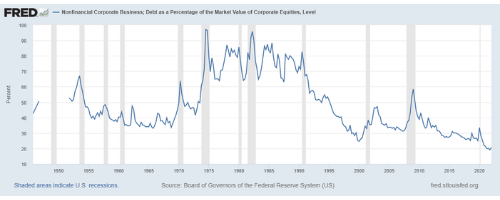 ---
---
Contact Genoa Asset Management
William (Kip) Weese
SVP, Intermediary Sales
Northeast & South West
(508) 423-2269
Email Kip
Art Blackman
VP, Intermediary Sales
Central
(816) 688-8482
Email Art
Rick Bell
VP, Intermediary Sales
North Central & North West
(513) 762-3694
Email Rick
---
Disclosures
Indexes used for AAA Municipal Yields
2 Year: BVAL Municipal AAA Yield Curve (Callable) 2 Year (Symbol: CAAA02YR BVLI)
5 Year: BVAL Municipal AAA Yield Curve (Callable) 5 Year (Symbol: CAAA04YR BVLI)
10 Year: BVAL Municipal AAA Yield Curve (Callable) 10 Year (Symbol: CAAA10YR BVLI)
30 Year: BVAL Municipal AAA Yield Curve (Callable) 30 Year (Symbol: CAAA30YR BVLI)
Indexes used for US Treasury Yields
2 Year: US Generic Govt 2 Year Yield (Symbol: USGG2YR)
5 Year: US Generic Govt 5 Year Yield (Symbol: USGG5YR)
10 Year: US Generic Govt 10 Year Yield (Symbol: USGG10YR)
30 Year: US Generic Govt 30 Year Yield (Symbol: USGG30YR)
F/m Investments, LLC, doing business as Genoa Asset Management (Genoa), is an investment advisor registered under the Investment Advisers Act of 1940. Registration as an investment adviser does not imply any level of skill or training. The oral and written communications of an adviser provide you with information about which you determine to hire or retain an adviser. For more information please visit: https://adviserinfo.sec.gov/ and search our firm name. The opinions expressed herein are those of Genoa and may not come to pass. The material is current as of the date of this presentation and is subject to change at any time, based on market and other conditions. The information presented in the material is general in nature and is not designed to address your investment objectives, financial situation or particular needs. Prior to making any investment decision, you should assess, or seek advice from a professional regarding whether any particular transaction is relevant or appropriate to your individual circumstances. The information presented does not involve the rendering of personalized financial, legal or tax advice, but is limited to the dissemination of general information for educational purposes. Please consult financial, legal or tax professionals for specific information regarding your individual situation. This information does not constitute a solicitation or an offer to buy or sell any securities. Although taken from reliable sources, Genoa cannot guarantee the accuracy of the information received from third parties. Charts, diagrams, and graphs, by themselves, cannot be used to make investment decisions. Investing involves risk of loss, including loss of principal. Past performance is no guarantee of future results. An index is a portfolio of specific securities, the performance of which is often used as a benchmark in judging the relative performance of certain asset classes. Indexes are unmanaged portfolios and investors cannot invest directly in an index. An index does not charge management fees or brokerage expenses, and no such fees or expenses were deducted from the performance shown.