December 16, 2022
With another good CPI report in the hopper, the market continued the relief rally it started when the October CPI report was released. There was plenty of good news on the inflation front, month over month was only up 0.1% and Ex Food and Energy was up only 0.02%. Heck CPI Ex Food and Energy was up a miniscule 6%! This is cause for celebration. Surely the Fed will see this as a trend and mitigate their "Higher for Longer" stance?
Chair Powell was definitive. In a highly orchestrated, hawkish speech, the Chairman ended the party and told everyone to go home and stop spending! This week the Fed Governors are making rounds emphasizing, it's about the jobs situation. Looking at the Job Vacancies Report against the Total Unemployed Workers below we still need 5 million workers, just to fill the open jobs! The Beige Book, listed a number of instances where employers are resorting to entry level hiring and training up candidates to fill highly skilled jobs (Not a bad thing in the long term, but an expensive way to hire).
But the market is not listening. The futures (See the CME Fed Watch Tool below) continue to show the Fed not raising above 5% and starting to cut in September. At the same time, looking at the yield table below, the five-year BBB index is yielding about 145 basis points above the 5-year US Treasury, the ten-year 183 basis points. These spreads, while wider than year end, are not recessionary spreads.
We will say it again and now again, it's a great time to be in bonds. While we remain cautious extending into credit, we see opportunities in fixed income without having to take credit risk. Short US Treasury issues have attractive yields and are an excellent place to ride out the coming volatility. We also see good value in longer high-quality tax-free municipals and high grade, liquid corporates where yields are attractive, and rates should be stable.
Use this recovery in the market to reposition portfolios to reduce risk, increase liquidity and prepare for the fallout from the 2022 rate increases. When the turmoil comes, you will have plenty of liquid bonds (Potentially with some gains) to sell and reposition into cheaper risk assets.
-Peter Baden, CFA
Chief Investment Officer
Click on the above links for more information on important investment and economic concepts.
---
Too Many Jobs for Too Few Workers
Joe Openings (Blue) versus Unemployed (Orange)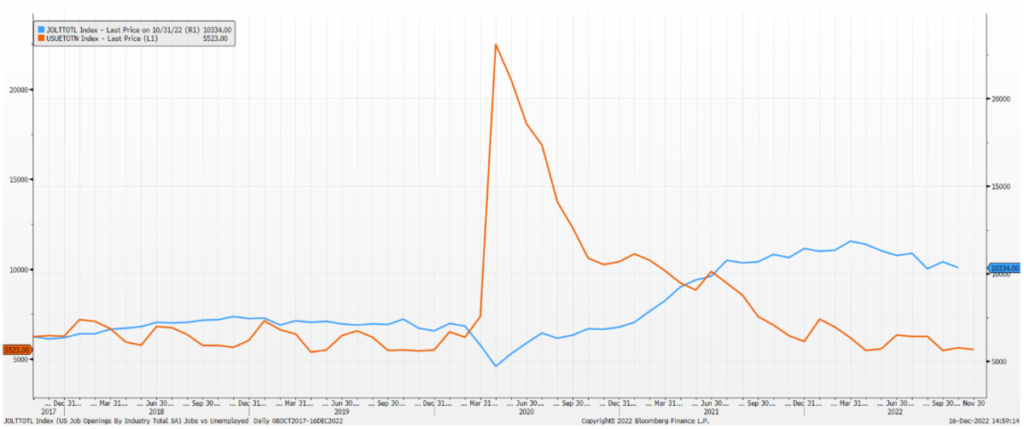 ---
CME Fed Watch Tool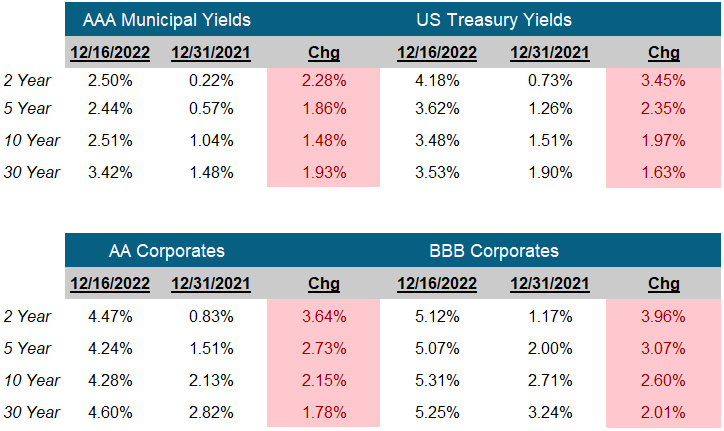 ---
Contact Genoa Asset Management
William (Kip) Weese
SVP, Intermediary Sales
Northeast & South West
(508) 423-2269
Email Kip
Art Blackman
VP, Intermediary Sales
Central
(816) 688-8482
Email Art
Rick Bell
VP, Intermediary Sales
North Central & North West
(513) 762-3694
Email Rick
---
Disclosures
Indexes used for AAA Municipal Yields
2 Year: BVAL Municipal AAA Yield Curve (Callable) 2 Year (Symbol: CAAA02YR BVLI)
5 Year: BVAL Municipal AAA Yield Curve (Callable) 5 Year (Symbol: CAAA04YR BVLI)
10 Year: BVAL Municipal AAA Yield Curve (Callable) 10 Year (Symbol: CAAA10YR BVLI)
30 Year: BVAL Municipal AAA Yield Curve (Callable) 30 Year (Symbol: CAAA30YR BVLI)
Indexes used for US Treasury Yields
2 Year: US Generic Govt 2 Year Yield (Symbol: USGG2YR)
5 Year: US Generic Govt 5 Year Yield (Symbol: USGG5YR)
10 Year: US Generic Govt 10 Year Yield (Symbol: USGG10YR)
30 Year: US Generic Govt 30 Year Yield (Symbol: USGG30YR)
F/m Investments, LLC, doing business as Genoa Asset Management (Genoa), is an investment advisor registered under the Investment Advisers Act of 1940. Registration as an investment adviser does not imply any level of skill or training. The oral and written communications of an adviser provide you with information about which you determine to hire or retain an adviser. For more information please visit: https://adviserinfo.sec.gov/ and search our firm name. The opinions expressed herein are those of Genoa and may not come to pass. The material is current as of the date of this presentation and is subject to change at any time, based on market and other conditions. The information presented in the material is general in nature and is not designed to address your investment objectives, financial situation or particular needs. Prior to making any investment decision, you should assess, or seek advice from a professional regarding whether any particular transaction is relevant or appropriate to your individual circumstances. The information presented does not involve the rendering of personalized financial, legal or tax advice, but is limited to the dissemination of general information for educational purposes. Please consult financial, legal or tax professionals for specific information regarding your individual situation. This information does not constitute a solicitation or an offer to buy or sell any securities. Although taken from reliable sources, Genoa cannot guarantee the accuracy of the information received from third parties. Charts, diagrams, and graphs, by themselves, cannot be used to make investment decisions. Investing involves risk of loss, including loss of principal. Past performance is no guarantee of future results. An index is a portfolio of specific securities, the performance of which is often used as a benchmark in judging the relative performance of certain asset classes. Indexes are unmanaged portfolios and investors cannot invest directly in an index. An index does not charge management fees or brokerage expenses, and no such fees or expenses were deducted from the performance shown.