January 6, 2023
Fixed income ended 2022 on a negative note. With the October and November CPI prints showing disinflation, the markets anticipated a more dovish Fed. However, the Chairman was resolute, and bond markets dropped as yields rose. So where do we stand after improving inflation reads in Europe and the US?
The most recent high on year over year CPI was June 2022 at 9.1%. Since then, we have had a steady decline: 8.5%, 8.3%, 8.2%, 7.7%, 7.1% in July through November. The UK & Eurozone both hit highs in October at 11.1% and 10.7% respectively and printed lower numbers for November. While it is a relief to see some of the inflationary pressures easing, all the readings are still too high to signal victory.
More concerning to the Fed, is the labor market. Wage inflation had been stubborn above the 5% year over year level, until today's read. Today, November was to 4.8% from 5.0% and December was estimated at 4.6%. Like CPI, this figure has been drifting lower since March 2022 when it was 5.62%.
So, there is good news on inflation, but what about the recession? Today's Employment report showed strong employment gains and a 3.5% unemployment rate (And more importantly an increased labor force!).
Add these numbers to our outlook and the possibility of a soft landing (Reducing inflation, while not causing a recession) increases.
Thursday, January 12th is the December read on US CPI. The latest Bloomberg survey expects a read of 6.5% Year over Year (5.7% Ex Food & Energy), and a month over month change of 0.0% (0.3% Ex Food & Energy). Any numbers below that would give support for the Too Far, Too Fast camp and pressure the Fed to consider a 25 basis point increase in February and perhaps even a lower terminal rate.
However, the Fed's "Paul Volker Moment" remains a risk. The Fed is getting what it wants, disinflation with strong employment. Continued rate increases, at 25 or even 50 basis points (Or worse a dramatic draw down of the Fed's balance sheet), while supporting their place in history alongside Paul Volker, could significantly increase the chances of recession and the depth of that potential recession.
A new year, some new information. We added a new section below: The Week Ahead (oh and the date of the next FOMC Announcement). We hope this helps you plan your next week.
Wishing you all the best in 2023 from all of us here at Genoa Asset Management!
-Peter Baden, CFA
Chief Investment Officer
Click on the above links for more information on important investment and economic concepts.
---
Next FOMC Decision
February 1, 2023
---
The Week Ahead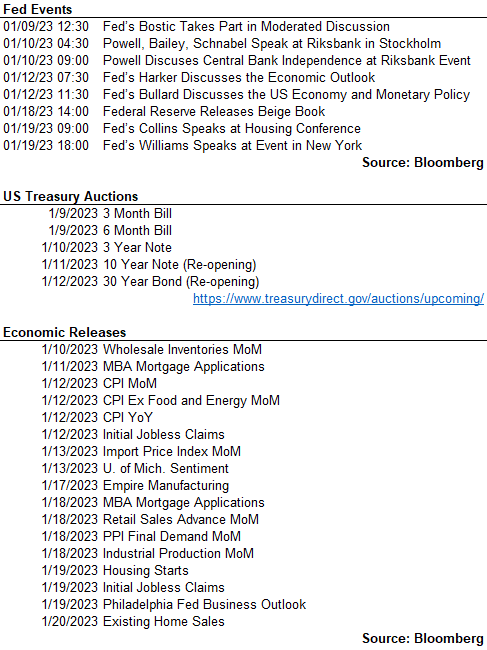 ---
CME Fed Watch Tool
---
Fixed Income Rates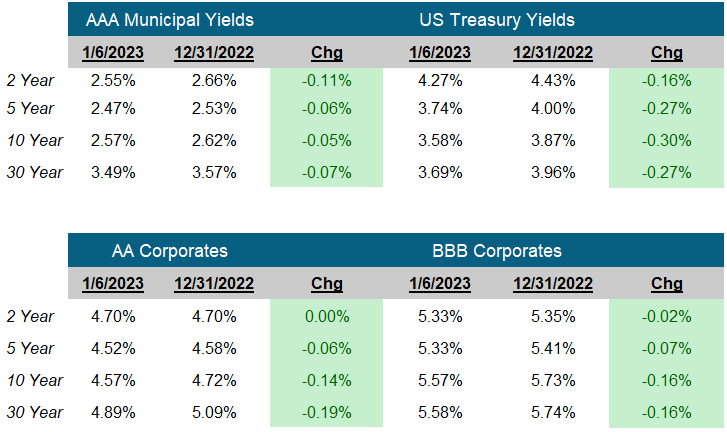 ---
Contact Genoa Asset Management
William (Kip) Weese
SVP, Intermediary Sales
Northeast & South West
(508) 423-2269
Email Kip
Rick Bell
VP, Intermediary Sales
North Central & North West
(513) 762-3694
Email Rick