May 8, 2023
We are changing things up this week. We issued a full analysis of the debt ceiling, how it came to be and potential outcomes. You can find it at:
or Click Here to get the PDF directly.
We continue to encourage advisors, clients and partners to reach out to their representatives. Lawmakers are not in our industry, they are not experts about the market and need to hear from constituents that are. Otherwise, they will continue to hear from their party base that may see this as a political win with a moderate cost. Contact your representatives (All of them). Here are some links to help:
https://house.gov/representatives/find-your-representative
https://www.senate.gov/senators/senators-contact.htm
Until next week…
-Peter Baden, CFA
Chief Investment Officer
Click on the above links for more information on important investment and economic concepts.
---
Next FOMC Decision
June 14, 2023
---
The Week Ahead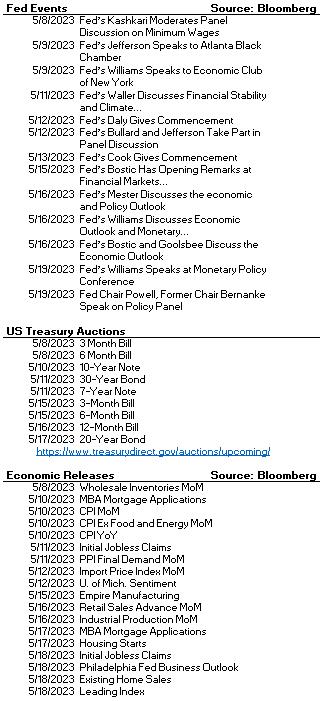 ---
CME Fed Watch Tool
---
Fixed Income Rates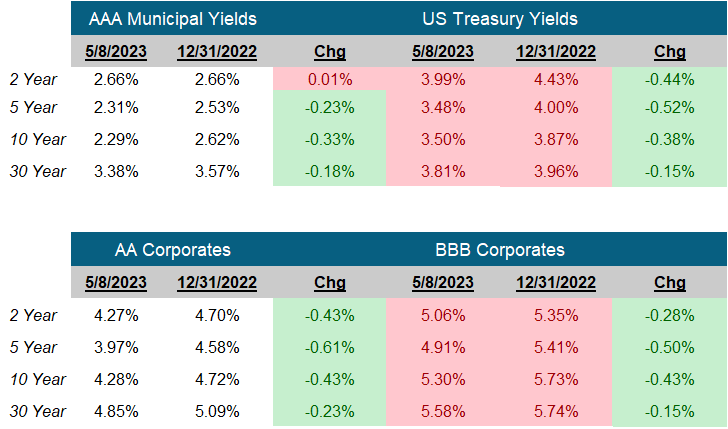 ---
Contact Genoa Asset Management
William (Kip) Weese
SVP, Intermediary Sales
Northeast & South West
(508) 423-2269
Email Kip
Rick Bell
VP, Intermediary Sales
North Central & North West
(513) 762-3694
Email Rick