August 18, 2023
It's Jackson Hole week, the annual Fed symposium that ends with a speech from Fed Chair Powell. Since the last FOMC meeting, July 26th, the 10-year yield has risen 39 basis points and the 2-year yield has risen 8 basis points, causing the yield curve to bear steepen. Add in the release of the FOMC minutes, which referenced members continued concerns of inflation from a strong economy, and the Friday speech once again holds important insight into the future of FOMC actions, the economy, and the markets.
July 26th the FOMC held their meeting and Chair Powell mentioned two things that caused a sea change in the yield curve. First, the FOMC was going to be "Data Dependent" on future rate increases, but to expect short term rates to remain high for longer. Second, he stated the Fed Staff did not expect a recession this year. That presented a challenge for the inverted yield curve, if short rates were not coming down, either through FOMC action or a recession, then to cure the inversion, long rates would need to drift up. With the 10-year note yield rising more than the 2-year note yield (Bear Steepen), the inversion 10-2 inversion decreased from a recent high of 108 basis points on July 3rd to 67 basis points Friday. The 10-year yield at 4.27% hit the highest yield since December 2007. If the Fed is concerned about a healthy growing economy causing inflation, the 10-year note is concerned too.
The main risk of this weeks speech is he leans into the prospect of additional tightening this year. With three more FOMC meetings, that leaves plenty of opportunity to switch from data dependent to actively raising rates. 
The CME Fed-Watch tool shows the futures market does not believe the Fed will raise rates, rather hold them steady until May 2024. Given the increase in the yield on the 10-year note and the 2-year note above their earlier highs, the bond market disagrees, the FOMC may not be done raising rates.
-Peter Baden, CFA
Chief Investment Officer
Click on the above links for more information on important investment and economic concepts.
---
Next FOMC Decision
September 20, 2023
---
Yield Curve Steepens Since 7-25-23

---
The Week Ahead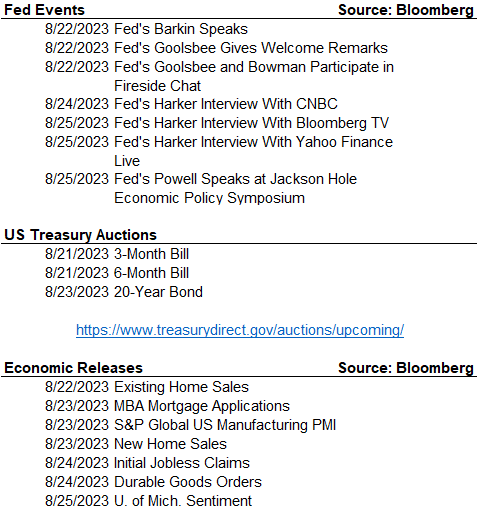 ---
CME Fed Watch Tool
---
Fixed Income Rates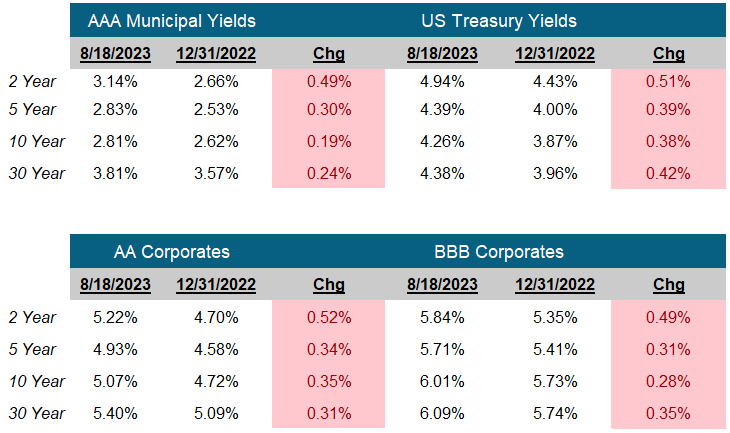 ---
Contact Genoa Asset Management
William (Kip) Weese
SVP, Intermediary Sales
Northeast & South West
(508) 423-2269
Email Kip
Rick Bell
VP, Intermediary Sales
North Central & North West
(513) 762-3694
Email Rick