May 20, 2022
It's been a record year in fixed income. Just not the kind of record we want to be setting. But with all the increases in rates, worries about recession and the volatility brought about by both, we believe there is good value in some areas of fixed income.
This week we got some bad readings on inflation. The Fed's favorite measure for inflation, the PCE Deflator came in at 6.6% (The highest since 1982). And Let's start with the one investment that is repeating on the list, the two-year US Treasury. Currently the yield to maturity is 2.57%. Looking at the one-year horizon, the one-year US Treasury will need to be trading at a 5.44% yield to maturity to lose money. We also see value in high quality corporate bond and asset backed bonds in this same maturity range.
Municipals bonds are very attractive in this market. First, given the rise in rates, and the illiquid market, municipal bonds prices have fallen significantly. But the credit profiles of many municipalities have improved since 2020. Currently the municipal scale has the ten-year AAA bond with around a 2.90% tax free yield to maturity. That compares favorably to the ten-year US Treasury yielding a taxable 2.79%. If we assume a 35% tax bracket, the 2.90% tax free yield is equivalent to a 4.46% pre-tax yield. That compares well with the current yield maturity for AA Corporate bonds at 3.93%.
We also see opportunities in improving credits and taxable municipal bonds, but we don't have the space to cover that today.
Where would we avoid? Those sectors particularly exposed to higher interest rates. Mortgage-backed bonds haven't yet seen the pre-payment speeds slow down, and if they do, maturities and durations could extend on the low coupon debt that is the biggest issuance in the market.
We are also concerned the spreads in high yield bonds are not reflective of a potential rise in defaults, whether we have a recession or not.
As we look our progress through this rate cycle, we think we are moving from increasing rates to increasing spreads. If that is the case, we recommend emphasizing higher quality, well valued bonds and avoiding weaker credits. As the Fed keeps raising rates and companies start defaulting, there will be time to get into the weaker credits, perhaps at a better price.
-Peter Baden, CFA
Chief Investment Officer
---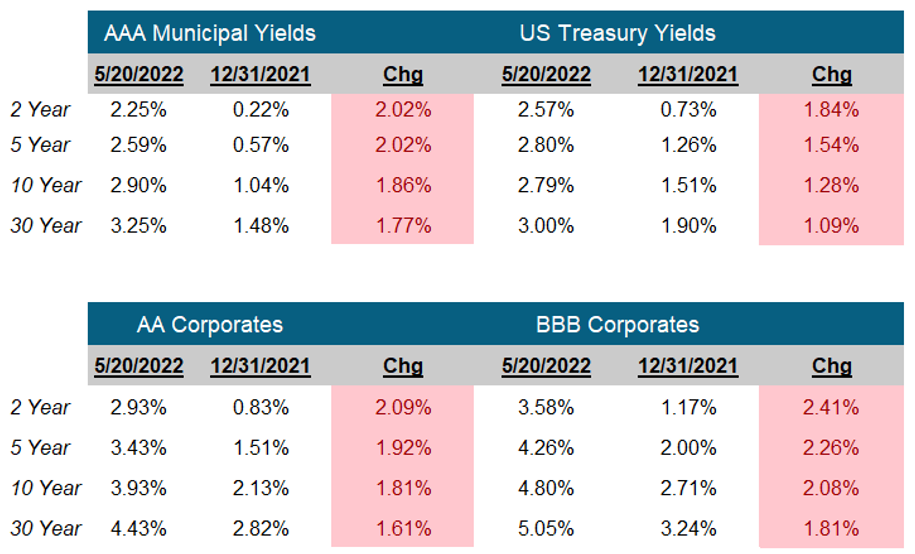 ---
---
Contact Genoa Asset Management
William (Kip) Weese
SVP, Intermediary Sales
Northeast & South West
(508) 423-2269
Email Kip
Art Blackman
VP, Intermediary Sales
Central
(816) 688-8482
Email Art
Rick Bell
VP, Intermediary Sales
North Central & North West
(513) 762-3694
Email Rick
---
Disclosures
Indexes used for Fixed Income Returns
U.S. Aggregate – The Bloomberg US Aggregate Bond Index (Symbol: LBUSTRUU)
U.S. Treasury – The Bloomberg US Treasury Index (Symbol: LUATTRUU)
Corporate – The Bloomberg US Corporate Bond Index (Symbol: LUACTRUU)
U.S. Corporate High Yield – The Bloomberg US Corporate High Yield Bond Index (Symbol: LF98TRUU)
Taxable Municipal Index – The Bloomberg Municipal Index Taxable Bond Index (Symbol: BTMNTR)
Tax-Free Muni Index- The Bloomberg Municipal Bond Index (Symbol: LMBITR)
Tax-Free Muni 7-Yr Index – The Bloomberg Municipal Bond 7 Year (6-8) Index (Symbol: LM07TR)
Indexes used for AAA Municipal Yields
2 Year: BVAL Municipal AAA Yield Curve (Callable) 2 Year (Symbol: CAAA02YR BVLI)
5 Year: BVAL Municipal AAA Yield Curve (Callable) 5 Year (Symbol: CAAA04YR BVLI)
10 Year: BVAL Municipal AAA Yield Curve (Callable) 10 Year (Symbol: CAAA10YR BVLI)
30 Year: BVAL Municipal AAA Yield Curve (Callable) 30 Year (Symbol: CAAA30YR BVLI)
Indexes used for US Treasury Yields
2 Year: US Generic Govt 2 Year Yield (Symbol: USGG2YR)
5 Year: US Generic Govt 5 Year Yield (Symbol: USGG5YR)
10 Year: US Generic Govt 10 Year Yield (Symbol: USGG10YR)
30 Year: US Generic Govt 30 Year Yield (Symbol: USGG30YR)
F/m Investments, LLC, doing business as Genoa Asset Management (Genoa), is an investment advisor registered under the Investment Advisers Act of 1940. Registration as an investment adviser does not imply any level of skill or training. The oral and written communications of an adviser provide you with information about which you determine to hire or retain an adviser. For more information please visit: https://adviserinfo.sec.gov/ and search our firm name. The opinions expressed herein are those of Genoa and may not come to pass. The material is current as of the date of this presentation and is subject to change at any time, based on market and other conditions. The information presented in the material is general in nature and is not designed to address your investment objectives, financial situation or particular needs. Prior to making any investment decision, you should assess, or seek advice from a professional regarding whether any particular transaction is relevant or appropriate to your individual circumstances. The information presented does not involve the rendering of personalized financial, legal or tax advice, but is limited to the dissemination of general information for educational purposes. Please consult financial, legal or tax professionals for specific information regarding your individual situation. This information does not constitute a solicitation or an offer to buy or sell any securities. Although taken from reliable sources, Genoa cannot guarantee the accuracy of the information received from third parties. Charts, diagrams, and graphs, by themselves, cannot be used to make investment decisions. Investing involves risk of loss, including loss of principal. Past performance is no guarantee of future results. An index is a portfolio of specific securities, the performance of which is often used as a benchmark in judging the relative performance of certain asset classes. Indexes are unmanaged portfolios and investors cannot invest directly in an index. An index does not charge management fees or brokerage expenses, and no such fees or expenses were deducted from the performance shown.