Written by Peter Baden, CFA, Chief Investment Officer
Headlines of the Week
Some Fed meetings are more important than others. The Fed meets next week and it promises to be an interesting meeting. With inflation readings the highest in decades, a confirmed chair, empty seats filled (or soon to be), and the political support in place, the Fed has signaled they are ready to act. It's not expected that the Fed will start lifting the target Fed Funds Rate at this meeting (That would certainly take it up the interesting scale) but expect an update on the removal of extraordinary support measures and normalization of rates.
A quick guide: The Fed has three main tools to manage interest rates and the money supply (And by extension inflation, jobs and the economy). The overnight Fed Funds Rate (Now 0-0.25%), a bond purchase program and management of their $8.86 trillion balance sheet. The Chairman and other Governors have all signaled rate increases starting this year. In the last meeting they decreased the bond buying program (Tapered), moving the end of new purchases from June to March. Released in the minutes and not foreshadowed, the Governors are discussing shrinking the Fed balance sheet.
So what to expect:
Markets, Economists forecast 3-4 Fed Funds rate increases, moving the Fed Fund rate from a range of 0.00-0.25% to 0.75%-1.00% by year end. Expect 25 basis point (0.25%) increases at each meeting. Some economists foresee five increases, some economists are calling for a 50 bps increase in March.
The bond buying program will end in March.
Shrinking the balance sheet is new and "Shrinking" is the term The Chairman used, not runoff. Most economists believe the Fed will let maturities runoff and not replace the bonds in the portfolio. However, the Governors are still discussing the balance sheet so this will be a key point to watch for on Wednesday when the Fed makes their announcement.
As we mentioned last week, inflation is here, and the Fed has activated. This will be the first time since the 1980's the Fed is chasing inflation rather than anticipating inflation. Strong, determined language backed by resolute action will reinforce confidence in the Fed and perhaps slow down the rate of inflation later this year.
---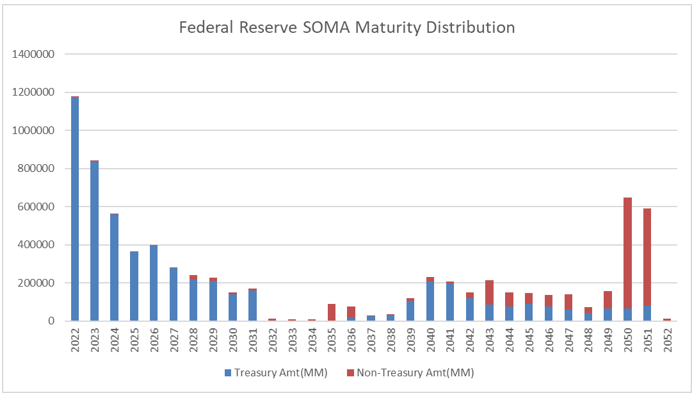 ---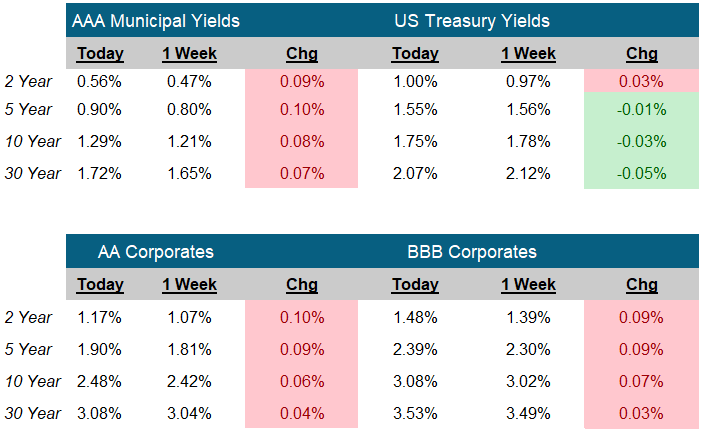 ---
Disclosures
Indexes used for AAA Municipal Yields
2 Year: BVAL Municipal AAA Yield Curve (Callable) 2 Year (Symbol: CAAA02YR BVLI)
5 Year: BVAL Municipal AAA Yield Curve (Callable) 5 Year (Symbol: CAAA04YR BVLI)
10 Year: BVAL Municipal AAA Yield Curve (Callable) 10 Year (Symbol: CAAA10YR BVLI)
30 Year: BVAL Municipal AAA Yield Curve (Callable) 30 Year (Symbol: CAAA30YR BVLI)
Indexes used for US Treasury Yields
2 Year: US Generic Govt 2 Year Yield (Symbol: USGG2YR)
5 Year: US Generic Govt 5 Year Yield (Symbol: USGG5YR)
10 Year: US Generic Govt 10 Year Yield (Symbol: USGG10YR)
30 Year: US Generic Govt 30 Year Yield (Symbol: USGG30YR) F/m Investments, LLC, doing business as Genoa Asset Management (Genoa), is an investment advisor registered under the Investment Advisers Act of 1940. Registration as an investment adviser does not imply any level of skill or training. The oral and written communications of an adviser provide you with information about which you determine to hire or retain an adviser. For more information please visit: https://adviserinfo.sec.gov/ and search our firm name. The opinions expressed herein are those of Genoa and may not come to pass. The material is current as of the date of this presentation and is subject to change at any time, based on market and other conditions. The information presented in the material is general in nature and is not designed to address your investment objectives, financial situation or particular needs. Prior to making any investment decision, you should assess, or seek advice from a professional regarding whether any particular transaction is relevant or appropriate to your individual circumstances. The information presented does not involve the rendering of personalized financial, legal or tax advice, but is limited to the dissemination of general information for educational purposes. Please consult financial, legal or tax professionals for specific information regarding your individual situation. This information does not constitute a solicitation or an offer to buy or sell any securities. Although taken from reliable sources, Genoa cannot guarantee the accuracy of the information received from third parties. Charts, diagrams, and graphs, by themselves, cannot be used to make investment decisions. Investing involves risk of loss, including loss of principal. Past performance is no guarantee of future results. An index is a portfolio of specific securities, the performance of which is often used as a benchmark in judging the relative performance of certain asset classes. Indexes are unmanaged portfolios and investors cannot invest directly in an index. An index does not charge management fees or brokerage expenses, and no such fees or expenses were deducted from the performance shown.