Written by Peter Baden, CFA, Chief Investment Officer
Fixed income markets absorbed a lot of information this week, Inflation, Fed participant speeches and a war in Europe. Of the three Inflation concerns won out. The yield on the 10 year US Treasury started the week at 1.931% and as of this writing (Around noon Friday) traded around 1.997%. Credit spreads continued to widen on the combined fears of war and recession moved investors out of risk assets.
While the world watched as Russia invaded the sovereign state of Ukraine, fixed income markets quickly reacted with safe havens rising and risk assets falling, but by the end of the week it seemed:
Ukraine is not a markets problem What is a markets problem? Inflation readings hitting multi-decade highs:

More Importantly: What are the Fed Governors' are going to do about it. In multiple speeches, each of the Fed Governors' have stated support for increasing the Overnight Fed Funds rate. Most supporting a 25-basis point increase at the March 16th 2022 meeting and four increases for 2022 (Although there is wide dispersion on the number of increases). For the week, the CME FedWatch Tool indicated seven increases in 2022, each of the remaining meeting dates, each 25-basis points.
Ukraine is a concern, with an estimated GDP of $181 billion (IMF estimates for 2021), the 55th largest economy in the world, but smaller than say, Greece at $211 billion. The bigger concern for Europe and the US is the conflict spreading to bordering NATO countries, which might invoke Article 5 of The NATO Treaty known as the "Commitment Clause". As of Friday, the war seemed contained to Ukraine easing concerns of a potential wider European conflict.
While western countries have announced and promised more sanctions against Russia:
"The sanctions will not target the oil flows as we go forward," Amos Hochstein, the State Department's senior energy security adviser, said in an interview on Bloomberg Television.
Oil prices fell and inflation fears eased (Slightly) as Russia is the number two producer of oil in the world.
Our thoughts and prayers are with the people of Ukraine. We hope for a peaceful end to this and other conflicts in the region.
From a fixed income markets perspective, we remain focused on Inflation, The Fed and the possibility of Recession.
---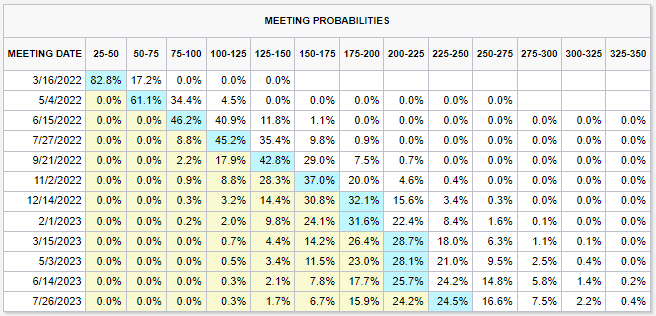 ---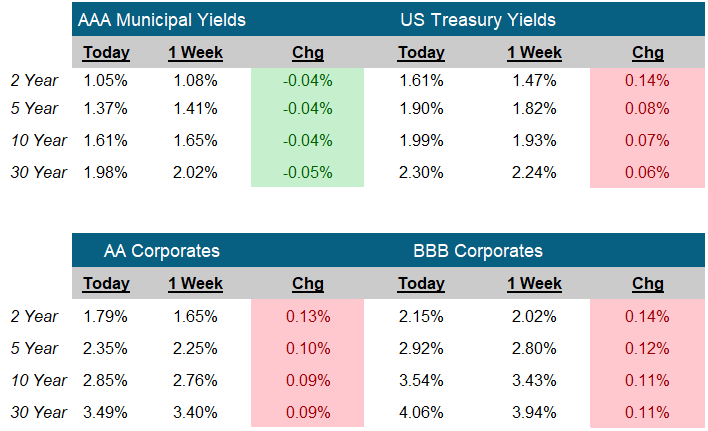 ---
Disclosures
Indexes used for AAA Municipal Yields
2 Year: BVAL Municipal AAA Yield Curve (Callable) 2 Year (Symbol: CAAA02YR BVLI)
5 Year: BVAL Municipal AAA Yield Curve (Callable) 5 Year (Symbol: CAAA04YR BVLI)
10 Year: BVAL Municipal AAA Yield Curve (Callable) 10 Year (Symbol: CAAA10YR BVLI)
30 Year: BVAL Municipal AAA Yield Curve (Callable) 30 Year (Symbol: CAAA30YR BVLI)
Indexes used for US Treasury Yields
2 Year: US Generic Govt 2 Year Yield (Symbol: USGG2YR)
5 Year: US Generic Govt 5 Year Yield (Symbol: USGG5YR)
10 Year: US Generic Govt 10 Year Yield (Symbol: USGG10YR)
30 Year: US Generic Govt 30 Year Yield (Symbol: USGG30YR) F/m Investments, LLC, doing business as Genoa Asset Management (Genoa), is an investment advisor registered under the Investment Advisers Act of 1940. Registration as an investment adviser does not imply any level of skill or training. The oral and written communications of an adviser provide you with information about which you determine to hire or retain an adviser. For more information please visit: https://adviserinfo.sec.gov/ and search our firm name. The opinions expressed herein are those of Genoa and may not come to pass. The material is current as of the date of this presentation and is subject to change at any time, based on market and other conditions. The information presented in the material is general in nature and is not designed to address your investment objectives, financial situation or particular needs. Prior to making any investment decision, you should assess, or seek advice from a professional regarding whether any particular transaction is relevant or appropriate to your individual circumstances. The information presented does not involve the rendering of personalized financial, legal or tax advice, but is limited to the dissemination of general information for educational purposes. Please consult financial, legal or tax professionals for specific information regarding your individual situation. This information does not constitute a solicitation or an offer to buy or sell any securities. Although taken from reliable sources, Genoa cannot guarantee the accuracy of the information received from third parties. Charts, diagrams, and graphs, by themselves, cannot be used to make investment decisions. Investing involves risk of loss, including loss of principal. Past performance is no guarantee of future results. An index is a portfolio of specific securities, the performance of which is often used as a benchmark in judging the relative performance of certain asset classes. Indexes are unmanaged portfolios and investors cannot invest directly in an index. An index does not charge management fees or brokerage expenses, and no such fees or expenses were deducted from the performance shown.